19th September 2015:
It's an all too common complaint these days, but isn't life flying by in the blink of an eye?!?! Before you know it, Christmas will be here, followed all too quickly by the peeling in of an New Year. But that's a little while off yet....
Between now and then, Colin will be releasing his new Mask Orchestra album and embarking on a UK mini-tour in support of said album. What's the album, I hear you ask? Well, to save you scrolling down the page (I know people these days have extremely short attention spans!), the album in question is called Drama, a double CD affair released on 2nd October 2015, that takes many of the tracks Colin has composed for various theatrical forays over the years and gives them a fresh spin, using the supremely talented Mask Orchestra.
It's packed to the rafters with all sorts of musical highlights (some serious, some silly - but never frivolous), and offers them up as a 16-serving musical meal. And it's not that there are 16 different meals per se, but each meal contains a smogasbord of flavours within itself. For those sweet lovers out there I'll pose this analogy: think of the entire CD set as 16 packets of various confectionary. So track 1 might be, for example, a bag of Starburst, track 2 being a bag of Revels, track 3 a bag of Dolly Mixtures, track 4 Wine Gums, etc. I think you know where I'm going with the rest of this, right?!?!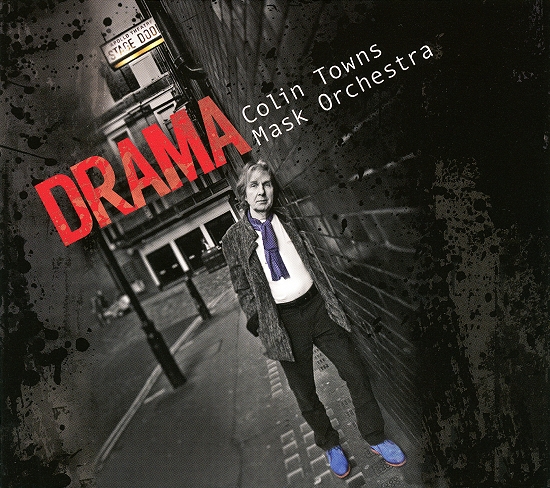 There's musical high and lows aplenty; twists and turns that make you occasionally duck your head in case it gets whacked by something you didn't expect to be coming. It's akin to walking round the Natural History Museum at night without any lighting. There's much to feel and experience until your eyes become somewhat accustomed to the darkness. It's a wondrous and vast place, full of items you'll return to time and again once you know how and where to navigate to, and other items you'll not want to go back to quite so often. And so it is with DRAMA. Pick it up, touch it, smell it, sense its very existence and enrich yourself. And remember: on your deathbed you don't regret the things you did do, but the things you didn't...
Tell us more about the tour, I hear you beg! Well, it's a three-dater in October:
15th October - Royal Northern College of Music, Manchester
16th October - Turner Sims, Southampton
17th October - LSO St Luke's, London
It's pretty rare to spot Colin on the road in the UK since he hung up his rotating, light-up bow tie following the demise of Gillan in 1982, and even more so with the full Mask Orchestra in tow. I'd like to urge each and every one of the visitors to this site to attend whichever venue is closest to you and show Colin your support. The costs involved in putting on such a venture must be astronomical, and it all falls to Colin to foot the bill if the venues are not filled to capacity. The venues want paying, and the band want paying, and the roadies want paying, etc. We need to pack out these places. How great would that be, eh? And he's more likely to tour again. I, for one, would sadly miss seeing him should he stop gigging due to apathy and lack of funds. I'm not into all this social media malarkey, but I'm sure several of you out there are. The links are: Twitter and Facebook. If you can, like, tweet, retweet, send smoke signals etc. (or whatever's your thang!) to get the word out.
There's also a Mask Orchestra Promo film which is now up on YouTube.
Lastly, although this is a site primarily about Colin Towns, I'd like to draw your attention to the fact that his old Gillan stalwart, Bernie Torme, also has an album out the very same day as Colin (yes, that's 2nd October 2015 - how weird is that?!?!). It's entitled Blackheart, and is a right foot-stomper of a CD. It started out as a PledgeMusic campaign, which enabled Bernie to record, mix, produce and manufacture the CD. Check out his site here.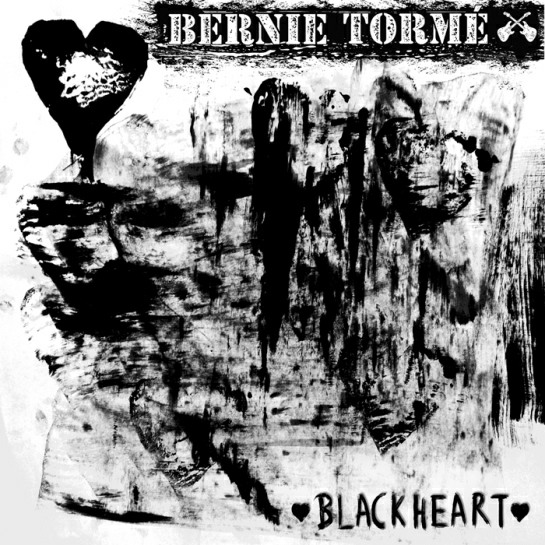 And following in Colin's footsteps exactly (but not copying him!), Bernie's also embarking on a UK tour, with 10 dates up and down the country:
Thurs 22nd October Keighley The Octagon
Fri 23rd October Troon South Beach Hotel, Scotland
Sat 24th October Edinburgh Bannermans, Scotland
Wed 28th October Frome Cheese & Grain
Fri 30th October Birmingham Institute
Sat 31st October London The Borderline
Sat 7th November Oxford The Wheatsheaf
Wed 11th November Newcastle The Cluny
Thurs 12th November Liverpool Arts Club
Sat 14th November Brighton The Albert
Do yourself a favour and get out to see Bernie too. Buy his merch and get it signed on the night - what more do you want....? He's sensational and plays like his life depends on it song after song, night after night. And do the facebook and twitter thing on him too - get the word out there that the gentle Irish guitar maestro is coming to a town near you soon.....
5th September 2015:
At long last some brief news about the latest series of Doc Martin. It starts an 8-episode run on Monday 7th September on ITV1 at 9.00pm (UK time). I heard a snippet of a TV programme a few days ago in which Martin Clunes (promoting Doc Martin presumably!) said that he isn't sure whether there would be any more series in future as it's getting increasingly difficult to come up with good storylines. It would be a shame to see the series finish altogether, so if you can think of any decent stories to keep the show going, I suggest you send them into ITV pronto!
Finally, here's something I should have mentioned a while back but forgot! Also at the same time as Doc Martin airs on ITV1, The Bridge radio station (a community station in the West Midlands) will be broadcasting a 1 hour 'Colin Towns' documentary. Alan Musson, presenter and all round font of knowledge on all things jazz, will play the documentary during his regular 2 hour slot on Monday 7th September. It's due to air at 9.00pm so make sure you don't miss it as there's unfortunately no catch up service available. As it's a community radio station, you'll have to go online to listen to it. I'm led to believe that there are contributions by Bernie Torme, Guy Barker and Alan Skidmore, to name a few. I've even contributed to the documentary, but my input has hit the cutting room floor! Anyhow, make sure you tune in here on Monday evening.....
20th August 2015:
For those of you in Germany, watch out for Tatort: Borowski und die Rückkehr des stillen Gastes, which should be broadcast some time early in 2016. And staying with Germany, keep you eyes peeled for another TV crime drama called Schandfleck. Colin did the music for both programmes.
In case you haven't heard, the last series of Doc Martin wasn't, in fact, the last series of Doc Martin! A new series is on it's way to ITV1 within the next few weeks - I'll post more details when I get 'em....
18th August 2015:
Hey folks! Yes it's me again! I've sadly neglected the site over the last year or so, but I'm back on track and bringing you the latest from Towns Towers....
First up is the news of a double CD from Colin Towns' Mask Orchestra entitled Drama. It's the first release from the Mask Orchestra since 2004's The Orpheus Suite, and will be released in the UK on 2nd October 2015. It features a who's who of jazz's finest including amongst others Julian Siegel, Alan Skidmore, Peter King, Tim Garland, Henry Lowther and Andrew McCormack. It also includes two members of Blue Touch Paper too (guitarist Chris Montague and percussionist extraordinaire Stephan Maass), and Arnd Geise (who also played with Blue Touch Paper on bass on their last UK tour in 2013).
The inspiration is theatre and drama, featuring new and also original music from Colin extensive work in the theatre, from classic plays such as One Flew over the Cuckoo's Nest, Equus and Macbeth, to contemporary work including Terry Johnson's Hysteria.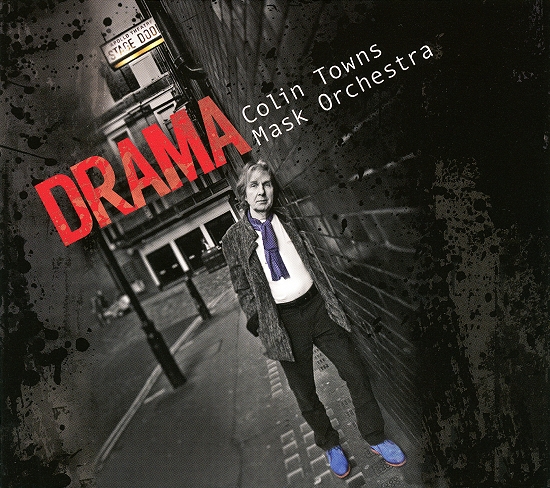 If all that wasn't enough to whet your appetite, the album release precedes a UK mini-tour:
15th October - Royal Northern College of Music, Manchester
16th October - Turner Sims, Southampton
17th October - LSO St Luke's, London
For those of you going to see the Mask Orchestra in London there's a wonderful treat in store. Japanese drummer and percussionist Joji Hirota will be the special guest that evening, playing with the Orchestra (he also appears on the new album too). It will surely be a memorable night, with Joji and Stephan Maass playing off against each other....
Tickets for all venues are on sale now - go get 'em while you can! And buy the album too! Show your support and keep the music coming.
---